Curriculum Integration

As we prepare students with 21st-century learning, we have to adapt and integrate new technologies into our curriculums. Technology integration means that thoroughly trained teachers are implementing a w

ell-integrated use of technology resources which makes twenty-first-century learning possible (Source)

.
---
What is Curriculum Integration?
An integrated curriculum is nothing new. John Dewey suggested it many decades ago. Basically, "a
n
integrated curriculum
is described as one that connects different areas of study by cutting across subject-matter lines and emphasizing unifying concepts" (Source). Subjects are not taught in isolation. Instead one subject bleeds over into the next. Technology integration builds on this by adding technology to lessons in thought out and relevant ways. This makes lessons more interactive and engaging.

As we prepare students to be productive citizens in the 21st-century world, integration becomes an integral feature of teaching. When our students are in the real world, they will rarely face problems or issues that are one-dimensional. Instead, most problems are multi-faceted and will require multiple resources to solve them. This is why technology and curriculum integration is important.
---
P21 & Curriculum
P21, the

Partnership for 21st Century Learning

, encourages a curriculum that drives the development of 21st century skills. Traits of this type of curriculum includes the well-integrated use of technology, collaboration, creativity, communication, critical thinking, diversity, global awareness, civic literacy, mastery of fundamental subjects and more. Teaching this type of curriculum is often achieved through methods that use curriculum integration, like project-based learning. P21 believes that

"schools must move beyond a focus on basic competency to promoting understanding of academic content at much higher levels by weaving 21st century interdisciplinary themes into curriculum" (Source). P21 goes on to say that "we live in a technology and media-suffused environment with: 1) access to an abundance of information, 2) rapid changes in technology tools, and 3) the ability to collaborate and make individual contributions on an unprecedented scale. To be effective in the 21st century, citizens and workers must be able to create, evaluate, and effectively utilize information, media, and technology" (Source). To be effective teachers, we must not teach subjects in isolation. Instead, we must integrate technology and multiple subjects in relevant ways to simulate real-world experiences.
---
Here is a
PowerPoint presentation
giving a general overview of one of my technology lessons,
which integrates multiple subjects while using technology.
---
Technology Integration
---
Powered by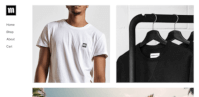 Create your own unique website with customizable templates.